An Event Planners Guide to Sustainable Print
18/11/2021
We've taken the headache out of print and created this handy sustainable print buyers guide to empower event planners across the industry to make better choices and educate their clients to do the same.
If you've landed on this page you probably agree that events and experiences simply can't function without print! Graphics and signage are an integral part of any event. They guide delegates around a space and provide unique branding opportunities, but the temporary nature of events often means they are designed for single-use.
A study done by Ecobooth found that 100,000 tonnes of waste were burnt or sent to landfills from the UK events industry in one year alone. That's a whole heap of waste that could be reduced and mitigated. We often forget the use of synthetic resins and harmful chemicals in dyes or inks also have huge negative implications both on the planet and managing the end life of graphic products.
Don't worry print isn't evil – we just need to shift our mindset towards greener print solutions.
This is why isla, with our Print Working Group, has developed the Better Buying for Print – An Event Planners Guide.
Our aim is to give you the tools to make the best choices -from having conversations with your suppliers to scoping and designing a project in the most efficient and considered way.
This free step-by-step guide will take you through the entire print planning process – the guide includes a handy traffic light scoring system to support better material choices, key watch-outs to avoid, and alternative solutions to ensure best-in-class sustainable credentials.
Don't let time, budget, or lack of knowledge get in the way of you delivering your best print project yet.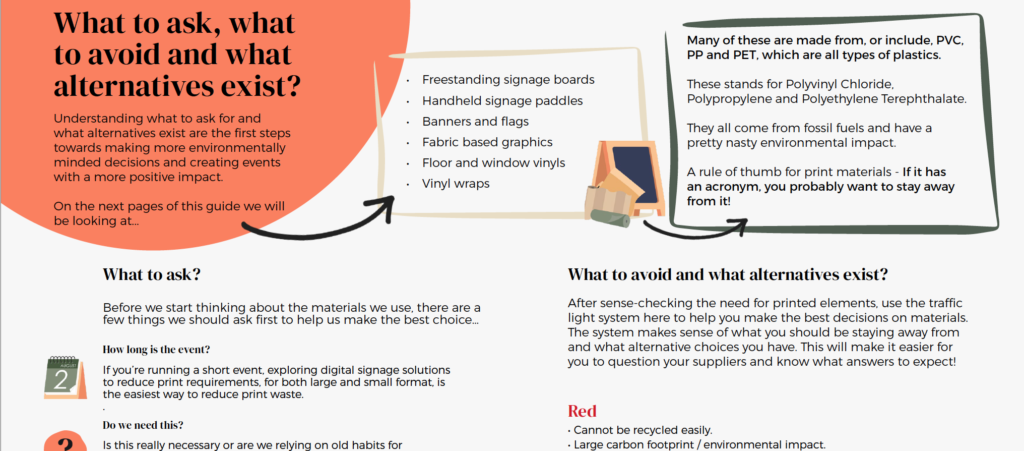 The guide looks at…
• Freestanding signage boards
• Handheld signage paddles
• Banners and flags
• Fabric-based graphics
• Floor and window vinyl
• Vinyl wraps
If you're interested in being part of the solution for sustainable graphics and signage, or want to gain access to more resources like this guide to reduce the impact of your events become an isla member!
Our latest news
TRACE, available now!